A-4AR Fightinghawk
by Marco A. Ortiz
reproduced by courtesy of
Eli Raphael and Jorge Figari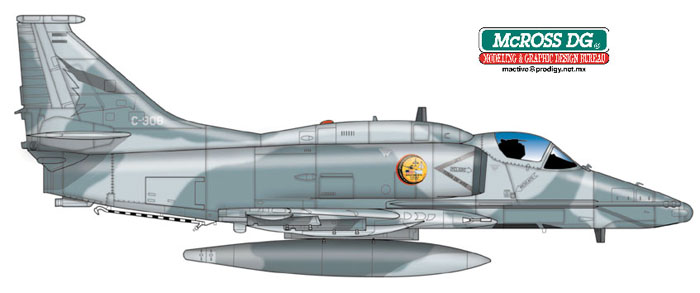 A-4AR Fightinghawk
In March of 1998 the A-4AR Fightinghawk made its first international and public appearance, when Squadron Commander Major Gillermo Martinez flew the aircraft over the Andes mountains to the FIDAE International Airshow at Los Cerrillos airfield in Santiago de Chile.
A-4AR C-908 took part in a joint exercise named " Aguila II ". Operation Southern Falcon against USAF F-16 of 113 Wing Sq. 121 of Columbia Air National Guard.

---

To Jorge Figari in Argentina - Thank You for you support for this work & for your last mails assisting this artwork. Thank you Jorge! Thanks also to Claudio Mora for his information on Brazilian Scooters and to Eli Raphael.

Air War in the Falklands 1982


Combat Aircraft 28


US Price: $19.95
UK Price: £12.99
Publisher: Osprey Publishing
Publish Date:

June 25, 2001
Details: 96 pages; ISBN: 1841762938
Image and Text by Marco A. Ortiz
Reproduced by courtesy of Eli Raphael and Jorge Figari
Page Created 15 June, 2004
Last Updated 15 June, 2004
Back to HyperScale Main Page