"Approaching Sturm"
by Randy Wright
Fw190A-8R-8 "Sturmbock" fighters of 5./(Sturm)JG4 are depicted during their September 27, 1944 combat with B-24 bombers of the 445th Bomb Group, 8th Air Force over Eisenbach, Germany.
Account details vary but during a violent 3-minute attack, the 445th had 25 of the 35 bomber formation, shot down by the German fighters. Another six were so badly damaged. They either crash landed or made emergency landings at alternate fields, leaving only four bombers to return to base that day. This was the highest lost-rate suffered by any U.S. bomber group on a single mission during the war. The engagement however, was not entirely one-sided. P-51 Mustangs of the 361st Fighter Group's 375th Fighter Squadron, arrived on the scene just in time to prevent the annihilation of the 445th. The 375th was credited with shooting down 18 Luftwaffe aircraft that day.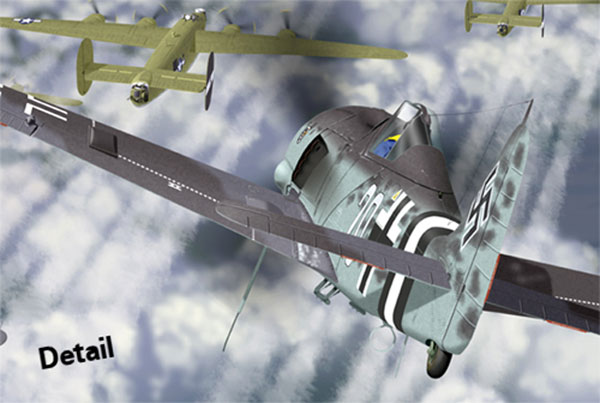 The term Sturmbock literally translates into "ram (or buck) storm". The term is analogous to a battering ram or an armored knight. Fw190A-8 fighters were modified into Sturmbock bomber interceptors with the addition of extra armor plating and heavy front windscreen glass to help protect the pilots from the bomber's defensive fire. The 20mm canons normally mounted in both outboard wing stations were replaced by 30mm, MK108 canons. Their mission was to close with the bombers, generally from astern, maneuver into firing position, then unleash their 30mm canons. While delivering this close-range canon fire was hazardous in the extreme, a half-dozen hits from these fearsome weapons would usually bring down a four-engine bomber.
This scene depicts the first wave of Fw190 Sturmbock fighters as they are about to strike the B-24 bombers at close range. Standard image depicts the Focke Wolfs just as they are about to wreak havoc on the bomber formation. If you would like something that adds even more drama to this scene, the artwork may be ordered with the foremost Fw190 (White 20) firing its wing-mounted canon at the nearest B-24 bomber (see web site for additional images)

Edition total of 350 prints. Available in several sizes from medium weight paper 12"x18" at $50.00 (US), up to 16"x32" Giclée prints on canvas, starting at: $400.00. Custom sizes also available.
For more information, please check out the artist's web site at http://home.earthlink.net/~warbirdsart
Click the thumbnails below to view larger images:
---
Model, Images and Text Copyright © 2005 by Randolph S. Wright
Page Created 15 June, 2005
Last Updated 14 June, 2005
Back to HyperScale Main Page