Easy Model 1/72 scale Die Cast
F4U-1D Corsair
Refinished by Chris Wauchop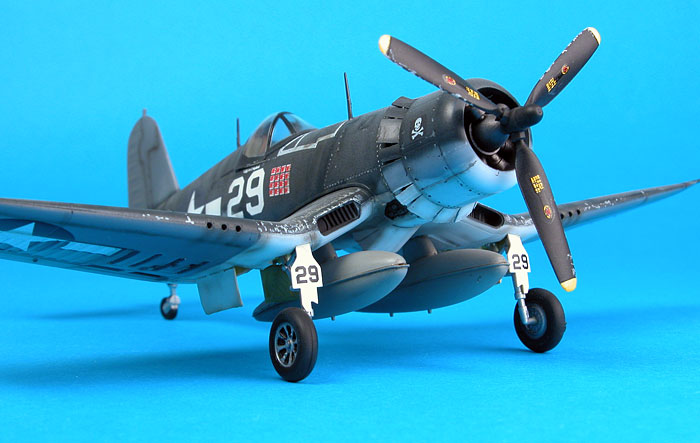 Vought F4U-1D Corsair

images & text by Brett Green
One of Chris Wauchop's regular clients approached him recently with a bag full of die-cast, pre-painted aircraft and armour models. Chris's mission, should he have chosen to accepted it, was to weather these models.
The first of these die-casts was a 1/72 scale F4U-1D Corsair. Apart from its unrealistically glossy and uniform finish, the model itself was quite impressive. It is marketed by a Chinese company with the brand name Easy Model. Panel lines are quite fine, and the general outlines look authentic.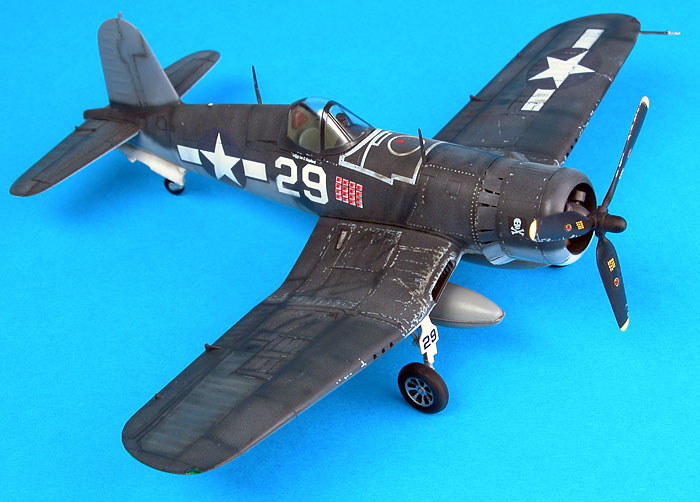 The only obvious shortcoming is that four HVAR rockets are attached to the bottom of each wing. When these are removed they leave a long open slot under each. Two grey drop tanks are also fitted. These were left in place.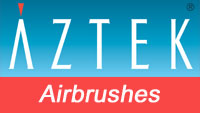 Chris started the weathering process by spraying an overall coat of Gunze Flat Clear. This coat frosted slightly, lightening the overly dark blue to a more acceptable shade. He then mixed various shades of the Sea Blue and Intermediate Blue, applying these to different panels (especially fabric panels and control surfaces) to obtain further variety. Panel lines were also highlighted with a thinly sprayed, dark mix. This same mix was used to apply streaks and stains to the wings and fuselage.
The rear of the propeller blades were also weathered, this time with silver pencil. Rivet lines were highlighted with tiny spots of light grey paint, after silver proved to be a little too dominant! The same technique was used for chipping on the leading edges and wing walk areas.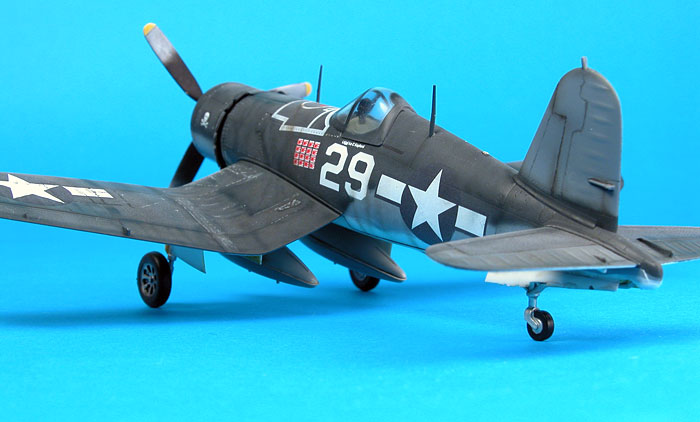 The existing markings were sprayed around. These markings are very thin and totally opaque. They almost seem sprayed on.
The model was sprayed with a combination of the Testor Aztek A470 airbrush, and the new metal body Aztek airbrush.
Click the thumbnails below to view larger images:
Modelling the F4U Corsair




Osprey Modelling 24

Author: Brett Green
US Price: $17.99
UK Price: £12.99
Publisher: Osprey Publishing
Publish Date: October 10, 2005
Details: 80 pages; ISBN: 1841768804
Model Refinished by Chris Wauchop
Images and Text Copyright © 2005 by Brett Green
Page Created 06 October, 2005
Last Updated 06 October, 2005
Back to HyperScale Main Page