Green Ink
Story & image by J.M. "Fuji" Ramos
Cartoon by Willy Peeters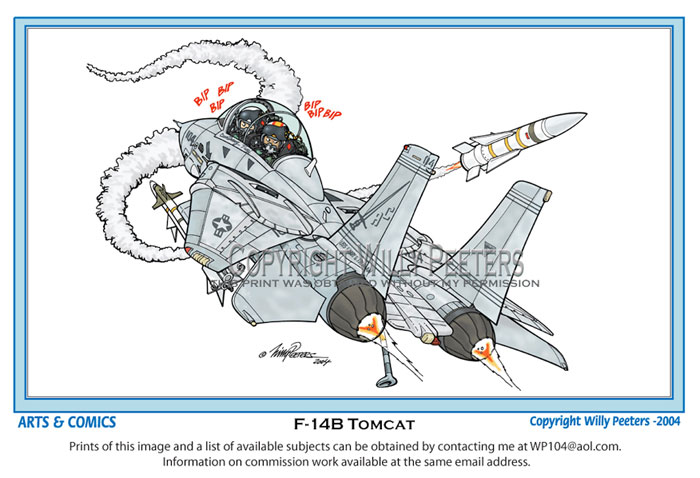 Willy Peeters was recently inspired to create the cartoon at the top of the page based on the story of one of "Fuji" Ramos' photographic missions. Here is Fuji's story:

'On August 6th, 2000 I had the honor and privilege to fly with VF-32 off the USS Truman during a missile exercise. The event was a Phoenix shoot in the Puerto Rico Operating Area. Needles to say I was very excited about the event.
After the briefing we went down to the PR shop, got ready to go then walked to our jet, Gypsy 104. My pilot for the flight was the commander of VF-32, Coondawg Cooney and I followed him during the walk around of our jet. Soon thereafter, we climbed up, got under way and taxied to the number four catapult.
Coondawg checked all the controls and as he signaled that we were good to go asks, "You ready back there?" I replied "I'm behind you all the way Skipper" and then BANG we were gone.
After joining Gypsy111, the shooter for the event, and Gypsy 100, the range observer, we turned in the range and began our run. 75 miles away a Hornet released a TALD as a target for the AIM-54. Gypsy 111 locked up the TALD and shot, "Fox Three," and the missile came off. I shot away as much as I could then watched the Phoenix climb away.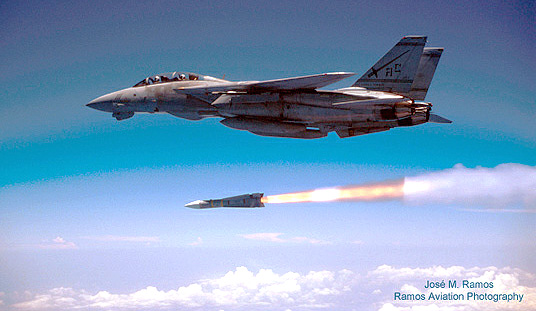 Gypsy 111 firing the soon to be errant Phoenix
As the missile climbed it began to look like it was doing a big loop. Sure enough, it was headed back in our general direction so immediately the range observer called for us all to get out of there. Coondawg went for the deck and pretty soon, we were wave hopping along. We joined back up with 100 and 111 continued the photo-ex. No big deal.
It was later determined the Phoenix had a control fin malfunction that caused it to do its huge supersonic loop. In reality in never came anywhere near us and we were never in any danger, but it never hurts to be ready.
Back on the ship, after our debrief, I looked at Coondawg and in a flat voice asked, "Skipper, you sure I can't log this in Green Ink?" The others laughed and he just replied.."Umm No" and smiled back. Green Ink in your log book is combat time.
Willy's drawing captures the spirit of the flight but as I said, it never came anywhere near us. It is just an amusing side note in my log book. While I haven't seen Coondawg for a while, every time I see or speak with him I always ask... "You sure I can't log that flight in green ink?"
To which I always get, "Umm No."'
---
Image Copyright © 2004 by Willy Peeters
Text Copyright © 2004 by J.M. "Fuji" Ramos
Page Created 19 May, 2004
Last Updated 29 March, 2005
Back to HyperScale Main Page