Pegaso Models' 54mm
Ninja Assasin
by Andrew Judson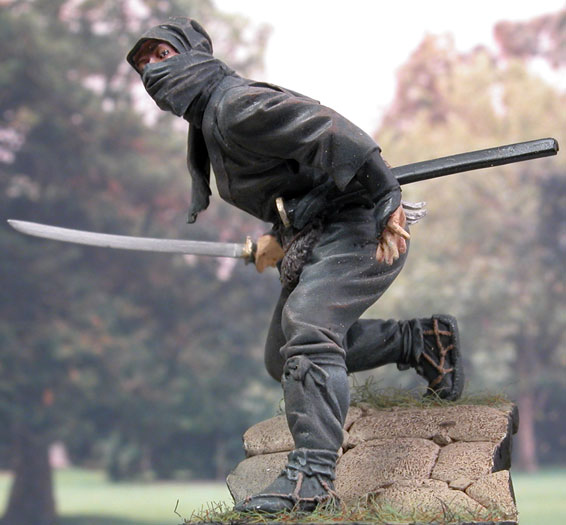 Ninja Assasin


When I first saw this figure advertised in the new release section of Historical Miniatures Magazine I immediately wanted it.
On opening the box I was presented with 11 very well cast white metal pieces, including a small base.
Before assembly, I washed everything with warm soapy water. After allowing the metal to dry I glued the parts together with ZAP CA (super glue) and primed the fgure with Tamiya Flat Black.
I then added different shades of black to the clothing and vry lightly dry-brushed white as a highlight colour and then, over that, dry brushed Burnt Sienna to add a sublte reddish tinge to the clothing. The reason for this red tint is that the fabric was red silk died black and in certain lights the red would show through.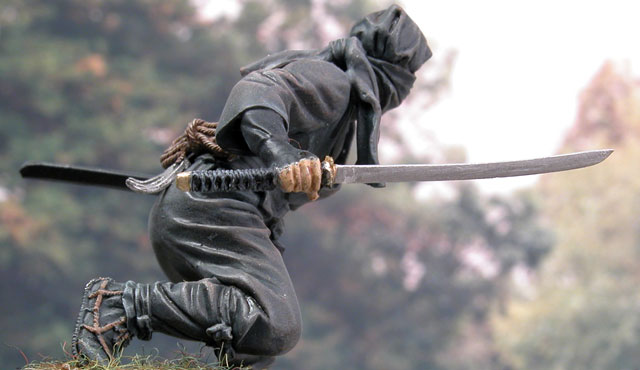 With the clothing complete I painted the flesh tones on the face and what showed of the hands using Testor's Model Master enamels, and Vallejo acrylics for highlights and the eyes.
Equipment was also painted in various shades of black with a little gold on the sword's sheath and hilt.
The base, although small, is effective. All that was added was a little static grass at the top and bottom.
I was very happy with this figure to the point of ordering two more, only this time in 90mm. Very good quality - highly recommended.
Thanks to David from Firestorm, Importer of Pegaso
Click the thumbnails below to view larger images:
The Samurai


Elite 23

Author: Anthony J Bryant
Illustrator: Angus McBride
US Price: $16.95
UK Price: £10.99
Publisher: Osprey Publishing
Publish Date:

May 25, 1989


Details: 64 pages; ISBN: 0850458978
Figure and Text Copyright 2004 by Andrew Judson
Images Copyright 2004 by Brett Green
Page Created 24 August, 2004
Last Updated 23 August, 2004
Back to HyperScale Main Page