Supermarine Spitfire Mk.Vb
"Out of the Blue
by Troy White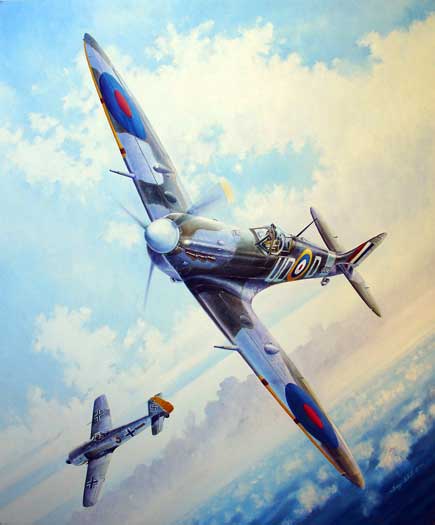 "Out of the Blue © Troy White
Supermarine Spitfire Mk.Vb
Ray "Throttle" Thorold-Smith, 452 Squadron RAAF
Out of the Blue" depicts F/Lt. Ray Thorold-Smith of No 452 Squadron RAAF in combat with an Fw190 from 6/JG 26. Thorold-Smith nicknamed "Throttle" is flying his assigned Spitfire Mk Vb W3821 UD-D. Throttle kept good company while flying with 452 Squadron. Two of his squadron mates were the notable Australian ace Keith "Bluey" Truscott and top Irish ace Brendan "Paddy"
Finucane. Throttle received the DFC in December of 1941 after 50 fighter sweeps and when Bluey Truscott was sent home to Australia in he took over as squadron leader. In June 1942 No 452 Squadron was sent to Australia to form part of No 1 Fighter Wing.

S/L Smith was killed in action during a Japanese raid on Darwin on 15th March 1943. He and four other Spitfires of 452 Squadron were about to take off from RAAF Darwin for the short hop back to their base when the Japanese arrived. They had done some night flying and then spent the previous night at the large RAAF base. As they flew to intercept the Japanese bombers two of the five Spitfires dropped out of formation at 15,000 ft. because of low oxygen. Their oxygen bottles had not been refilled at RAAF Darwin. Despite this S/L Smith pressed on but failed to return from the mission. It is assumed that he succumbed to hypoxia. The wreckage of his Spitfire Mk Vc
BS231 was not located until 1983.

Footnote: S/L Ray Thorold-Smith is credited with 5.5 victories his last one being an Fw 190. Stewart Wilson's book "The Spitfire, Mustang and Kittyhawk in Australian Service" states that this Fw 190 was shot down and crashed into the sea near Gris Nez on 4th November 1941. Upon reading this I checked my copy of "The JG 26 War Dairy Volume One 1939-1942" by Don Caldwell and found no losses for JG 26 on that date. As most people with an interest in the air war over Western Europe know we have very accurate records of Luftwaffe losses during the early years of WWII. The book did state however that JG 26 did have a clash with No 452 Squadron on 6th November 1941 and claimed 3 Aussie Spitfires for the loss of one Me 109F. I then contacted John Beaman thinking that possibly JG 2 was flying the new Focke Wulf fighter at this early date but he informed me that in fact JG 26 was the only unit equipped with the 190s in November 1941. So I have yet to be able to substantiate S/L Smith's last victory.

Out of curiosity I thought I would try to match up some more of 452 Squadron's claims against the JG 26 records where applicable and sure enough found there to be quite a bit of over claiming. I don't think that this lessens in any way the heroic deeds of the young men who flew and fought in those battles. Considering English weather and the rudimentary navigational aids of that era I am amazed that they flew as many sorties as they did.

---
Model, Images and Text Copyright © 2005 by Troy White
Page Created 06 September, 2005
Last Updated 05 September, 2005
Back to HyperScale Main Page