Pegaso's 54mm
Teutonic Knight
by Andrew Judson


It is only recently that I have developed an interest in this subject, and seeing as I have had this figure sitting in the cuboard for some time, I decided this would be the first of a series of Knights.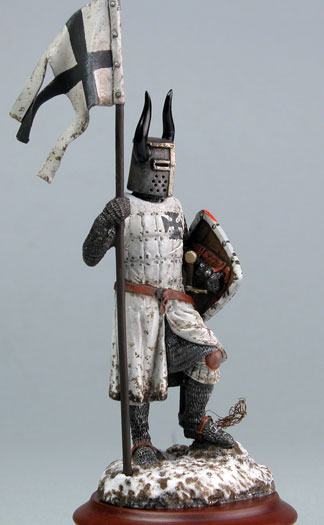 Pegaso's 54mm Teutonic Knight is made of white metal, and went together without any problems at all.
I did assemble it in stages, so as I could paint the white before doing the chain mail.
The shield, now that was a challenge for me, with all the different designs and colors, and after doing it twice, and a bit of colorful language, I was happy with the end result you see here.
Once all together I was really pleased with the overall appearance, but he was to clean, so out came a series of dirty colors. He was muddied up, to look like he has seen a little action.
The base was with the kit, but I decided to add Micro Balloons, as they are very effective for snow. Over that I then stippled some dirty colors to give an effect of trampled snow.
The entire figure was painted with Tamiya and Valejio acrylics, with Model Master enamels lightly drybrushed in some areas.
I am really happy with this figure and hope you enjoy looking at it.