Pilipili 120mm scale
The Ronin, 1750
by Andrew Judson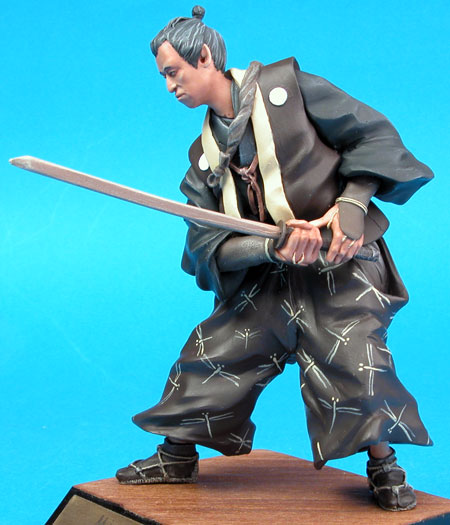 The Ronin, 1750


I have been eyeing off this 120mm (1/16 scale) resin figure entitled "The Ronin, 1750" from Pilipli in Belgium for quite some time. When I finally did get my hands on one I was very impressed indeed.
I decided to finish this model to represent one of the most famous of all Samurai, Miyamoto Musashi. He was known to use the Bokken, a wooden sword, in combat against men armed with steel blades.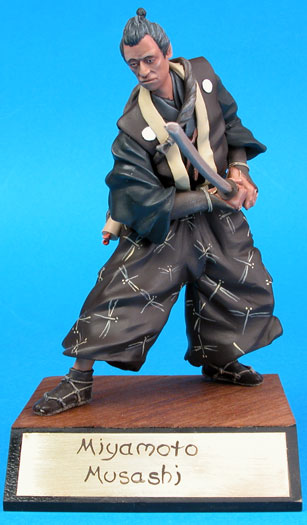 Inside the box are twelve very high-quality resin parts, grey in colour, just screaming to be assembled and painted..
Cleanup was minimal, with very small casting plugs to be cut off and sanded smooth. Easy.
With this figure it is advisable to assemble per instructions or you may have trouble with the painting, especially if you deviate from the colours on the box as I did.
First, I glued the two legs together and filled the minor seam. I then painted the legs with the dragonfly pattern on the pants and set them aside. Next, I painted the feet and glued these into place. So far, so good.
At this stage I started on the torso, first painting the main body then the arms and hands. Once dry, the arms were glued in place, then the hands, making sure they were aligned correctly to hold the sword.
The hard work now done, I painted the spare sandals, the medicine case and my favourite part, the head.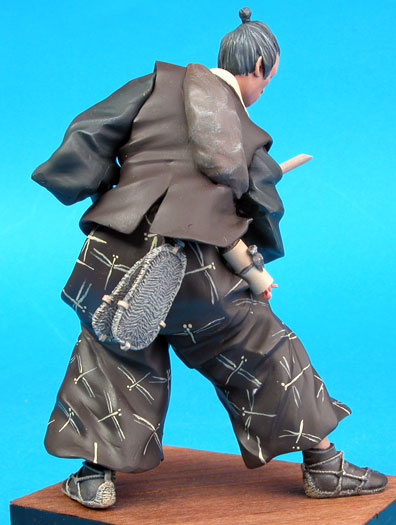 Paints used were Model Color arylics by Vallejo, and Model Master paints for the flesh tones.
I was very happy with the result.
For reference I use the book Samurai, An Illustrated History, by Mitsuo Kure, from Turtle Publishing.
Thanks to Gosford Hobbies for all their help in sourcing this figure.
Click the thumbnails below to view larger images:
The Samurai


Elite 23

Author: Anthony J Bryant
Illustrator: Angus McBride
US Price: $16.95
UK Price: £10.99
Publisher: Osprey Publishing
Publish Date:

May 25, 1989


Details: 64 pages; ISBN: 0850458978
Figure and Text Copyright 2004 by Andrew Judson
Images Copyright 2004 by Brett Green
Page Created 22 May, 2004
Last Updated 24 May, 2004
Back to HyperScale Main Page