USS Georgia BB 15
by Warren Kirbo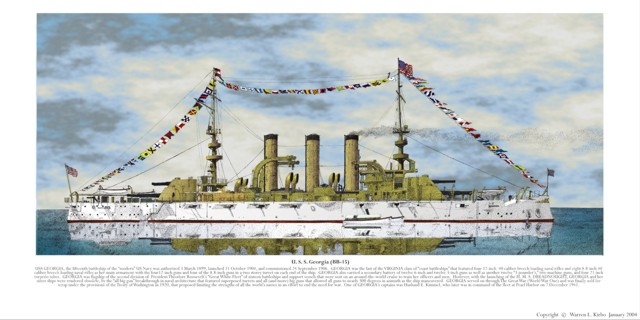 One of the Virginia Class, of Coast Battleships, that were the last battleships in the US Navy that featured two story turrets, BB - 15 USS GEORGIA was launched at the Bath Iron Works, Maine, on 11 October, 1904, Commissioned on 24 September 1906, and served until being stricken and sold in November 1923.

Armed with four 12 inch naval rifles and eight 8 inch 45 caliber rifles, GEORGIA had already been rendered obsolete when she entered service. GEORGIA served from in September 1906 until after the end of WW I where she served as flagship of Division 2 Squadron 1 until being sent to Mare Island for repairs where she remained until decommissioning. She was sold in 1923 "for scrap" as was much of the US Navy under the terms of the "Washington Treaty for the limitation of naval armaments" that forced radical limits and hence modernizations of the world's navies.

One published photograph I found years ago at the Davidson County Public Library in Nashville, TN, had a photograph I believe was in the Dictionary of US Naval Ships, featured the signature of one of her officers, Husband Kimmel, later to be Commanding at Pearl Harbor on 7 December 1941, who had signed the image in the book.

In December, 1907 US President Theodore Roosevelt sent sixteen of his new battleships, "The Great White Fleet" on an around the world cruise from Hampton Roads around Cape Horn to San Francisco, then with a few changes, continuing on across the Pacific and through the Suez Canal to show the flag before returning to Hampton Roads in February 1909.. The purpose of this exercise was to train the new crews of these ships and their support fleet including colliers and hospital ships for the new Global Role the United States was undertaking, that often included negotiation for the purchase of coal and of food.

Many of the details on the original pen and ink drawing and coloring are taken and adapted from photographs of the VIRGINIA class battleships and of the USS GEORGIA in THE AMERICAN STEEL NAVY . John D. Alden CDR USN (Ret). Naval Institute Press. 1972. and THE UNITED STATES NAVY: From the Revolution to Date . Frances J. Reynolds. P.F. Collier and Son. NY. 1915. The original drawing is 35 inches wide, drawn in December 2003, and colored in January 2004 by Warren L. Kirbo.

A more lengthy and detailed history of GEORGIA can be found on the Internet, starting with http://www.chinfo.navy.mil/navpalib/ships/battleships/georgia/bb15-georgia.html . This is a great site, and a great period of history that encompasses the acquisition and the construction of the Panama Canal starting in 1903 when the USS NASHVILLE and her Marines fortified the Colombian Province of Panama to secede and be recognized by the Unites States then quickly leasing the lands for the Panama Canal to America until December 31, 1999.
Also see my Nashville Gallery elsewhere here on HyperScale http://hsgalleries.com/nashvillewk_1.htm

---
Image and Text Copyright © 2003 by Warren Kirbo
Page Created 03 May, 2004
Last Updated 03 May, 2004